This site was last updated on October 24, 2008
Quartz Crystal Habits within Herkimer Diamond Deposits
The best website on "Herkimer Diamonds"
Larger photos of the thumbnails presented on the main "Crystal Form" page. Included is identification information and the source link is embedded there (just click). In some cases additional information and comments are provided for each photo.
Please help with picture donations!

Herkimer diamonds connected to other minerals

A public service project always open to input from the community interested in Herkimer diamonds.













Yellow-amber calcite crystals as a coating over Herkimer diamonds. The largest Herkimer (at the bottom) is 4 mm across. This is an unusual occurrence for the Herkimer District. This is a specimen from Fonda, NY (DA) - 2006. The owner of the Herkimer Diamond Mine showed me another specimen with similar small calcites (more white) also coating a single Herkimer (and stated she had never seen anything like it before). Such associations are rare, and even more so at Fonda with the calcite often being highly etched (see the picture below). Photo Dr. D.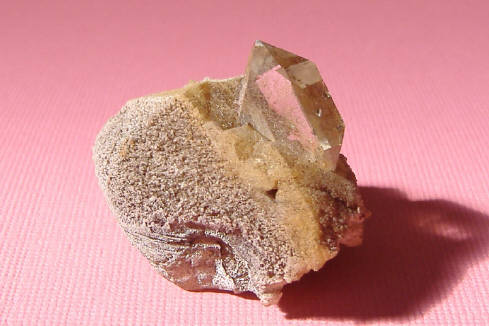 This is a clear Herkimer diamond which looks like it has grown on top of calcite, but actually the calcite grew around the Herkimer diamond. This calcite is typical for larger pocket calcite from Fonda, NY (DA - 2002). It is highly etched and you can just (barely) make out the calcite faces on the left side. The specimen is 3 cm across. Photo Dr. D.
Like the above picture you can see calcite forming around the quartz (a prismatic, elongated, "Herkimer diamond"). The arrow points to the overlap and there is a close-up below. The specimen is 14 cm, top to bottom of the photo with the larger calcite almost palm sized (the dark interior is due to sufide inclusions). The quartz grew on top of white (or cream) saddle dolomite. The specimen is from the Hanson/Benchmark Quarry, St. Johnsville, NY. Photo Dr. D.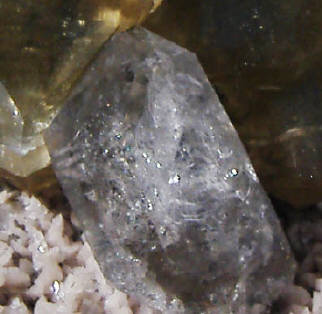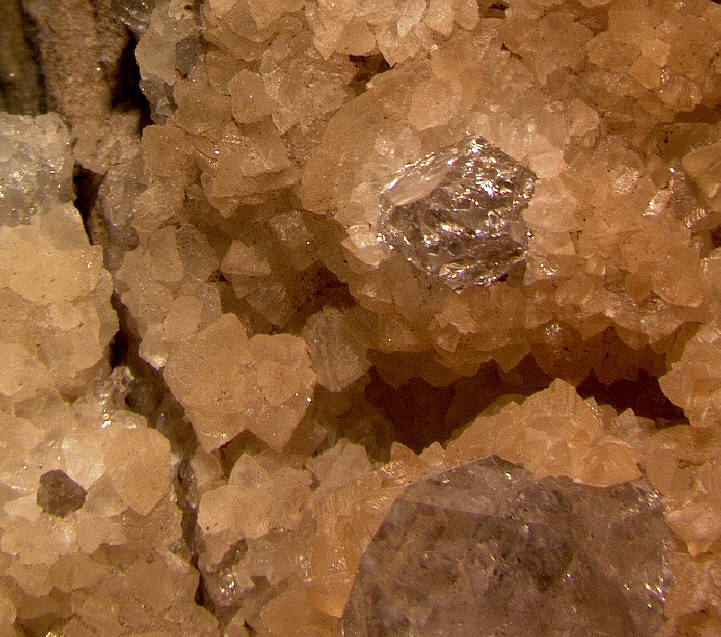 Web page author - W. David Hoisington, Ph.D.